There are mufflers and then there are purifier mufflers. This customer muffler design is intended to replace the stock mufflers that are commonly considered original equipment for vehicles. When the design is the right match, it will operate a an efficiency rate of up to 90%. This is especially important for vehicles with diesel engines, since the temperature in the muffler will improve the efficiency of the gas purifier.
Like all mufflers, a custom purifier design aids in reducing harmful emissions and also muffles the noise generated by the engine and the exhaust system.
Preparing the customized muffler is less difficult than many people think. It's necessary to provide the maker with basic information about the vehicle and the original muffler. Be prepared to provide the make and model of the vehicle, the engine type, the machine serial number associated with the original muffler, and the stock muffler number. Keep in mind that if you have modified the system and are using a muffler design that is different from the original, you will need to provide details about the current one as well.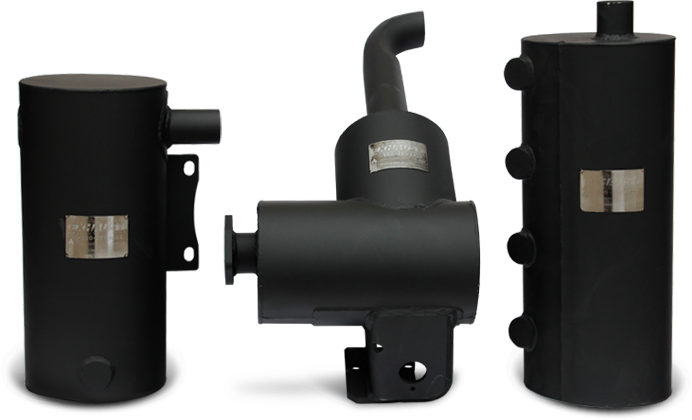 Common Applications
| | | |
| --- | --- | --- |
| Allen | Bobcat | Bomag |
| Gehl | Genie | Gradall |
| Ingersoll | JCB | JLG |
| Briggs and Straton | Grove | John Deere |
| Case | Hatz | Kawaski |
| Caterpillar | Hitachi | Kobelco |
| Clark | Honda | Kohler |
| Compare | Hyster | Komatsu |
| Deutz | Husqvarna | Kubota |
| Doosan | I.H.I | Miller |
Note: Common exhaust purifier mufflers are kept in stock and can be shipped out same day.
Vehicle owners may choose a customer purifier muffler for several reasons. One has to do with general performance. The higher operating efficiency ensures that exhaust does not build up and possibly add to the residue found in the catalytic exhaust system. A custom muffler of this type also allows you more control over the way the vehicle sounds. If you are going for more of a muscle car sound, it's easy to design a muffler that purifies and provides the type of sound you want. You may want the vehicle to sound quieter than it does with a stock muffler in place. If so, it's simple enough to design a custom purifier muffler that eliminates most of the engine sounds.
Purifier mufflers can also be installed on other machinery that is used in farming, manufacturing, and other types of applications. As long as the original design includes an exhaust system and a muffler, there is the chance that one of these custom mufflers would improve performance and reduce wear and tear on the equipment.
Many people assume that the installation of a custom muffler would be difficult. In fact, the process rarely takes any longer than it would take to remove an aging stock muffler and replace it with one of the same design. A professional can easily determine if any type of special kit is needed to manage the replacement. In most cases, the time and effort involved will be minimal.
Summary
Purifier mufflers are designed to replace the Original Equipment Manufacturer (OEM) muffler system. Purifier mufflers are the most desirable option for a large variety of applications available for both diesel and gas engines. Purifier mufflers are designed to receive the maximum amount of exhaust heat energy in order to operate at high efficiency (80% to 90%+). The difficulty and time required for installing a custom purifier muffler is minimal, simply remove the stock muffler and replace with the similarly designed purifier muffler. Overall a purifier muffler will provide the most efficient reduction, the easiest installation, the least engine downtime and the most reliable operation.
The Major Catalytic Oxidation Reactions which Occur are:
For Oxides of Nitrogen
NOx + CO → N2 + CO2
NOx + H2→ H2O + N2
For Carbon Monoxide
CO + O2→ H2O + N2
For Hydrocarbons
HC + O2→ CO2 + H2O
Features
High Efficiency "Tortuous" Flowpath Catalytic Core

Our Purifier/Mufflers feature a unique "tortuous" flowpath catalytic core, incorporating a curved mixed flow cell design. This takes advantage of the physical properties of harmful pollutants, increasing contact with the catalytic core surface. By promoting the contact between harmful pollutants and the catalytic core the "tortuous" flowpath core design is superior in reducing harmful pollutants produced by the engine.

High Quality Catalytic Coating

Our Purifier/Mufflers feature a high quality platinum-rhodium coating, which is very carefully distributed upon a uniform high porosity wash coat. The high quality coating provides long life, increases cold start performance, and enhances thermal durability of the catalyst. The net results are high efficiency catalytic reactions, which lead to very low exhaust pollutants when used in conjunction with the recommended leaner carburetor jetting.

Superior Thermal and Physical Strength

Our Purifier/Mufflers are constructed of high temperature tolerant, corrosion resistant, stainless steel alloys. Thick stainless steel alloy retainers are used to provide support and stability for the inlet and outlet faces of the metallic core. Our Purifier/Mufflers use inlet flow diverters for even exhaust flow distribution and improved operating efficiency.

Low Exhaust Gas Restriction

Our Purifier/Mufflers feature high strength, ultra-thin metallic core walls. These allow a minimal exhaust gas restriction during operation, even under high load/ speed operating conditions. The exhaust gas backpressure restriction will be in the order of 6.0" to 9.0" water gauge at full load.

Easy Installation

Our Purifier/Mufflers are a direct fit muffler replacement designed for ease of installation. Simply remove your current muffler and install the Purifier/Muffler directly in place of the old one.